Sooo tasty.
A legacy family business | est. 1994
From our farm to your table
Take a tour of our farm and installations
With over 100 years of experience in production, Le Porc de Beaurivage is a family affair. Inspired by nature and the well-being of our animals, our feed is created with high quality grains, all to offer you a meat that is incomparable.
Our categories
Many ways to enjoy a healthy pork, raised with love
Renowned as an exceptional meat by many well established chefs and butchers, we are proud to offer the experience of Le Porc de Beaurivage to all.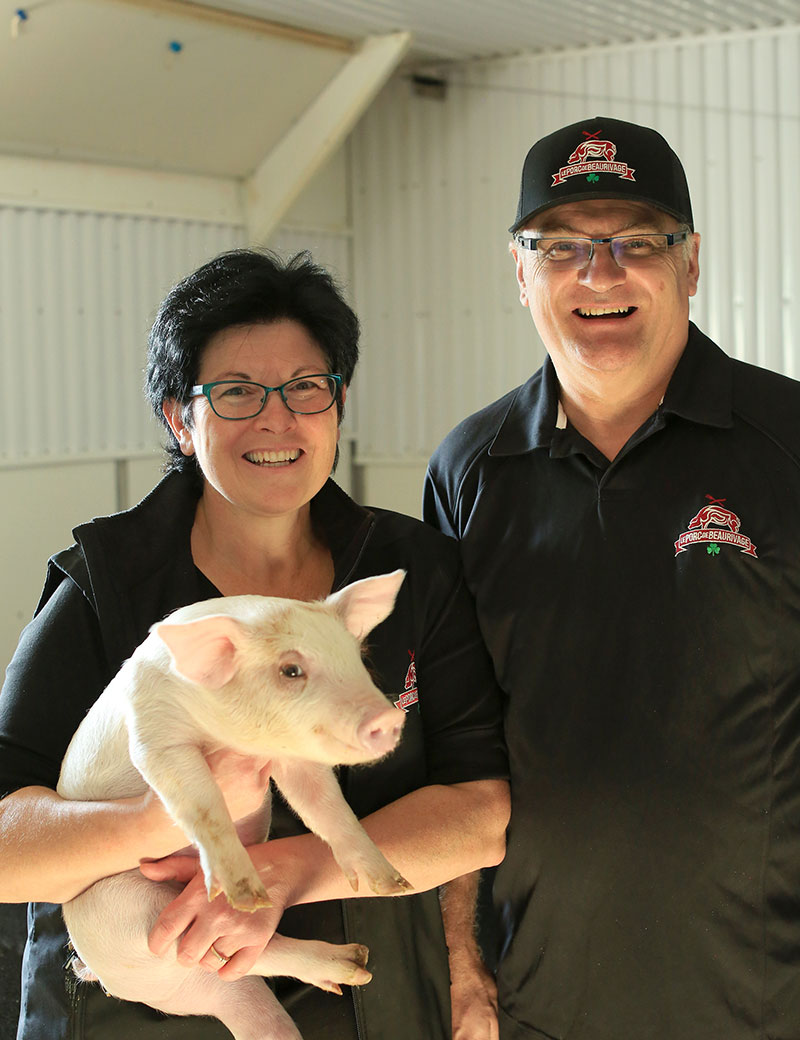 From our farm to your table
How to place your order online
Fast and simple, one click and you are ready to go!
Choose the products you wish to order
Selected according to your liking. Have questions or specifications? Do not hesitate to add them to your order or to contact us.
Let us check for their immediate availability
Within 24h you will receive a confirmation of the products available for your order.
Come pick them up or have them delivered to the address of your choice
You don't live close to our farm? Not a problem, our vans can deliver in many regions of the province!
Carefully prepared meat on your table
1. Our farm
Ethical breeding to the highest standards in the industry.
---
2. Provincial slaughterhouse
We benefit from the close proximity of regional slaughterhouses.
---
3. Le Porc de Beaurivage butcher shop
Purchase our tasty products directly in our shop.
---
4. Restaurants and butcher shops of Quebec
Find our delicious products in a variety of local establishments.
---
5. On your end
Online orders are also available with low shipping costs!
Your purchase goes through multiple transformation and exchange processes making it more expensive and less fresh.
1. Farm factories
The operation of these establishments is strictly linked to performance.
---
2. Federal slaughterhouse
Animals generally travel a long way to reach the various centers.
---
3. Fresh meat processing center
Without on-site processing, the meat must travel further.
---
4. Food processing and packaging factory
The packaging is modified excessively.
---
5. Meat distribution warehouse
Contrary to local operations, products are stored in warehouses and then distributed.
---
6. Sub-distribution company
Products are exchanged and circulated between distributors.
---
7. The supermarkets
Farm products are displayed on grocery store shelves.
---
8. At home
Buying products at the source is not an option.
From our farm to your table
In respect of the animal and its environment.
100% naturally and locally raised pork.

Fed with 100% plant-based grains.

Without hormones or growth stimulants.

Without by-products.
BEAURIVAGE RECIPES
Local recipes to learn how to cook like master chefs
Our chef's recipes as well as our family recipes will allow you to try new things or to rediscover grandma's classics! Smoked, oven baked, BBQ anything is possible!
From our farm to your table
Enjoy flavors and textures native to Beaurivage
You wish to add Le Porc de Beaurivage products to your counter? Contact us to see what options are available and which best suits you and your clientele's style! Several custom options are offered, thanks to the specialized butchers in our C1.